posted on 31 May 2009 06:59 by starworld
WASHINGTON — For a health food nut, President Barack Obama sure likes his burgers.
President Barack Obama made a surprise lunchtime stop at Five Guys, a fast-food restaurant in Washington.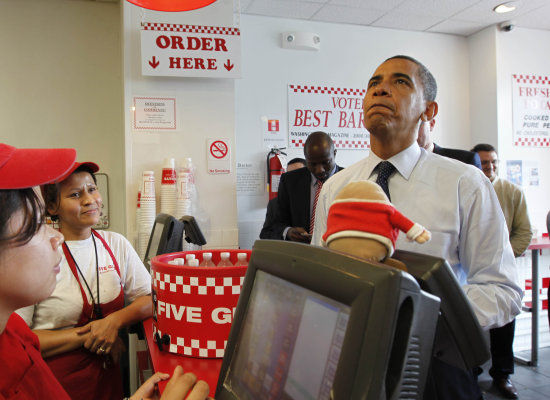 The president ordered a cheeseburger with lettuce, tomato, jalapeno peppers, and mustard as well as several other cheeseburgers to go. He also ordered a cheeseburger for Brian Williams, news anchor for NBC. The network was filming a day-in-the-life program at the White House.
The president snacked on peanuts, and chatted with surprised customers while he waited for his order.
There are "more problems than we thought," Obama told a man who asked him about his first months in office.
Early this month, Obama and Vice President Joe Biden took a short motorcade ride from the White House to Virginia and ordered lunch at a small independent restaurant called Ray's Hell Burger. First lady Michelle Obama recently said she snuck out to a Five Guys restaurant without anyone noticing.
Despite their burger runs, the Obamas are big believers in exercise and healthy eating.
The first lady has started a vegetable garden at the White House. Some of the crops will be served to the Obamas and to White House staff and guests, while some will be donated to a local soup kitchen.